BOOQED - Redesigning a Website for On-Demand Workspace Booking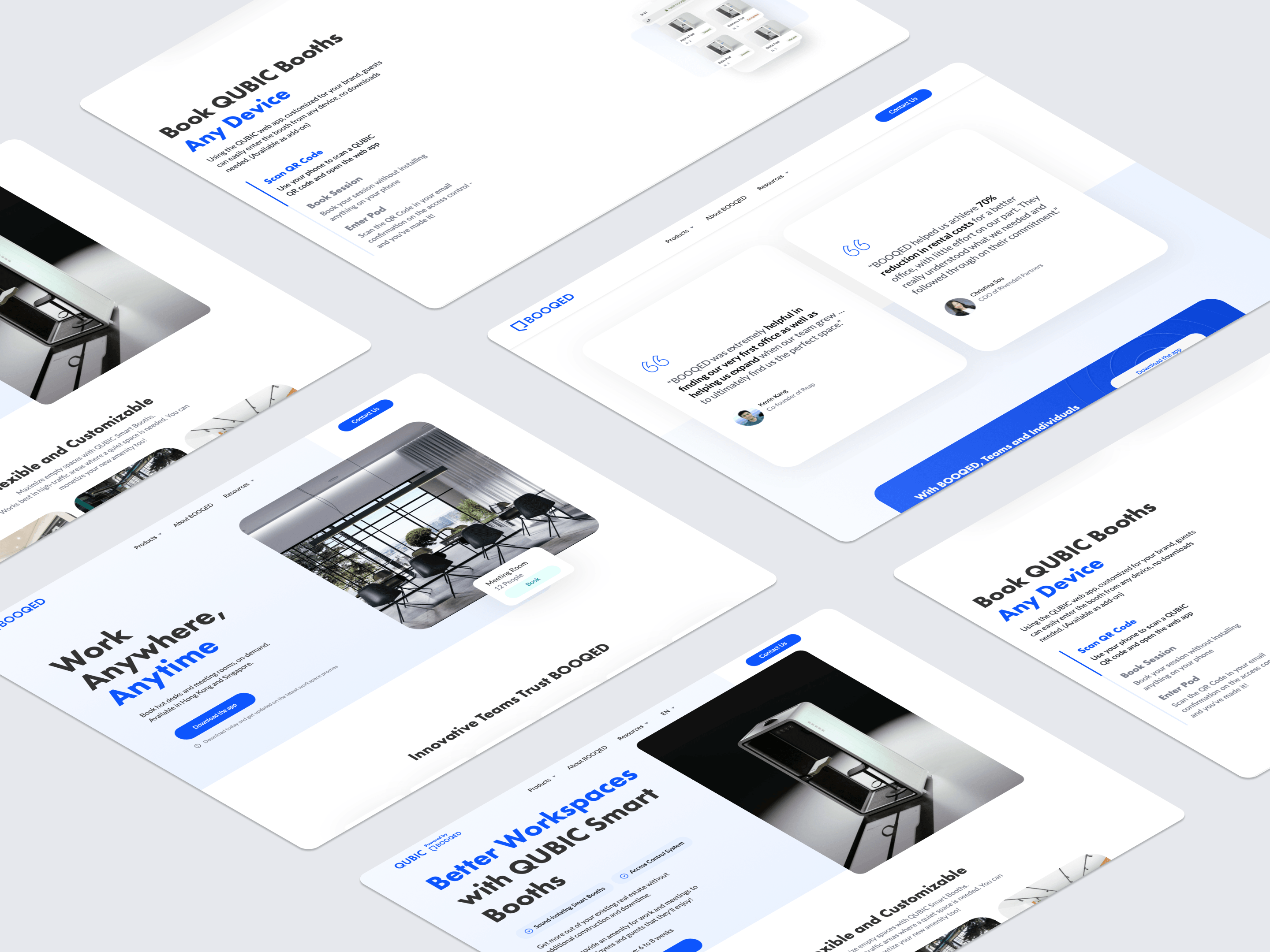 Client

BOOQED is a leading workspace booking platform in Singapore that provides flexible solutions for professionals and businesses. Their platform enables users to book workspaces, such as hot desks and meeting rooms, conveniently and instantly.

Industry

Workspace Booking

Company Size

15 - 20

Headquarters

Hong Kong & Singapore

Project Duration

3 months (Apr. - Jun. 2022)
Visit Website
BOOQED is a Singapore-based platform that offers on-demand booking of hot desks and meeting rooms. As they aimed to enhance their user experience and increase conversions, they engaged our web development agency to redesign their website.
A pioneering platform in Singapore that provides individuals and businesses with flexible workspace solutions. Their online platform allows users to easily book hot desks and meeting rooms at various locations across the city. As the demand for flexible workspaces grows, BOOQED recognized the need for a website revamp to better serve their customers and stay competitive.
BOOQED faced several challenges with their existing website, including a complex and confusing user interface, inefficient booking process, and outdated design.
We followed a comprehensive process to redesign BOOQED's website, incorporating the latest design trends and industry best practices. The key solutions implemented were as follows:
a. User-Centric Design: We conducted user research to understand the target audience's preferences and pain points. This information guided the development of a user-centric design that prioritized ease of navigation, clear information hierarchy, and visually appealing aesthetics.
b. Streamlined Booking Process: We optimized the booking process by implementing a simple and intuitive step-by-step approach. Users could now select their desired location, date, and duration, view availability, and make reservations seamlessly.
c. Mobile Responsiveness: Recognizing the increasing use of mobile devices for online bookings, we ensured the website was fully responsive across different screen sizes. This allowed users to access and book spaces conveniently from their smartphones or tablets.
d. Intuitive Interface: The redesign focused on creating an intuitive interface that minimized user effort. The website's layout was organized logically, with clear labeling and intuitive icons. User feedback was actively collected and incorporated throughout the development process to refine the interface.
e. Branding and Visual Refresh: We updated BOOQED's branding elements to reflect their modern and innovative identity. The website's visual design featured a clean, professional, and visually appealing aesthetic, aligned with the company's brand values.
Through a collaborative effort between BOOQED and our team, the website redesign successfully addressed the client's challenges and achieved the desired goals. The improved user experience, streamlined booking process, and visually appealing design contributed to increased bookings, improved brand perception, and greater customer satisfaction. The redesigned website positioned BOOQED as a leader in the flexible workspace industry, ensuring their continued growth and success in the competitive Singapore market.
Hear it straight from

BOOQED

"Our collaboration with PocketDevs has been truly transformative for BOOQED. Their expertise in website design, branding, and strategic insights helped elevate our brand and drive growth in ways we couldn't have imagined. Their work has been instrumental in positioning BOOQED as a leader in on-demand workspace booking."
---
Charles Oh
Co-founder & COO of BOOQED